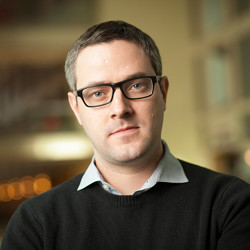 The research of the VLSI Information Processing (VIP) group is at the intersection of digital very-large scale integration (VLSI) circuit and system design, wireless communication, as well as signal and image processing. Our main focus is on integrating computationally complex algorithms into efficient (in terms of power consumption, throughput, and silicon area) application specific integrated circuits (ASICs). We are jointly considering theory, algorithm, architecture, and VLSI implementation aspects, which enables far more efficient solutions than a conventional, atomistic VLSI design approach that solely focuses on architecture and circuit design. Our current research focus is on theory, algorithms, and VLSI circuits and systems for massive (or large-scale) multi-user multiple-input multiple-output (MU-MIMO) wireless systems, real-time signal and image processing applications, as well as analog-to-information (A2I) converters. In all three fields, we rely on recent progress in graphical models, convex and non-convex optimization, compressive sensing, machine learning, and develop novel theoretical results and computationally efficient algorithms.
News
May 8, 2017
Paper on decentralized data detection in massive MU-MIMO systems accepted to the 2017 IEEE Symposium on Information Theory (ISIT):
arXiv preprint
May 8, 2017
Paper on optimally-tuned nonparametric equalization in massive MU-MIMO systems accepted to the 2017 IEEE Symposium on Information Theory (ISIT):
arXiv preprint
April 10, 2017
New paper on 1-bit precoding in massive multi-user MIMO orthogonal frequency-division multiplexing (OFDM) systems submitted:
arXiv preprint.
April 10, 2017
Conference paper on joint assessment and peer grading appeared in the Proceedings of the Thirty-First AAAI Conference on Artificial Intelligence (AAAI-17).
March 25, 2017
Journal paper on the throughput analysis of massive MIMO systems with low-precision analog-to-digital converters accepted to the IEEE Transactions on Wireless Communications.
February 20, 2017
Prof. Christoph Studer's NSF CAREER proposal on hardware-accelerated Bayesian inference was awarded for funding.
See here for more details!
January 11, 2017
Feature article in the January issue of the IEEE Signal Processing Magazine on "Compressive Video Sensing".
Download the full paper here!
January 4, 2017
PhaseMax: A novel convex method for phase retrieval that avoids lifting.
Go here!
See old news